Web3 Revolution
28 febrero @ 9:00 am

-

8:00 pm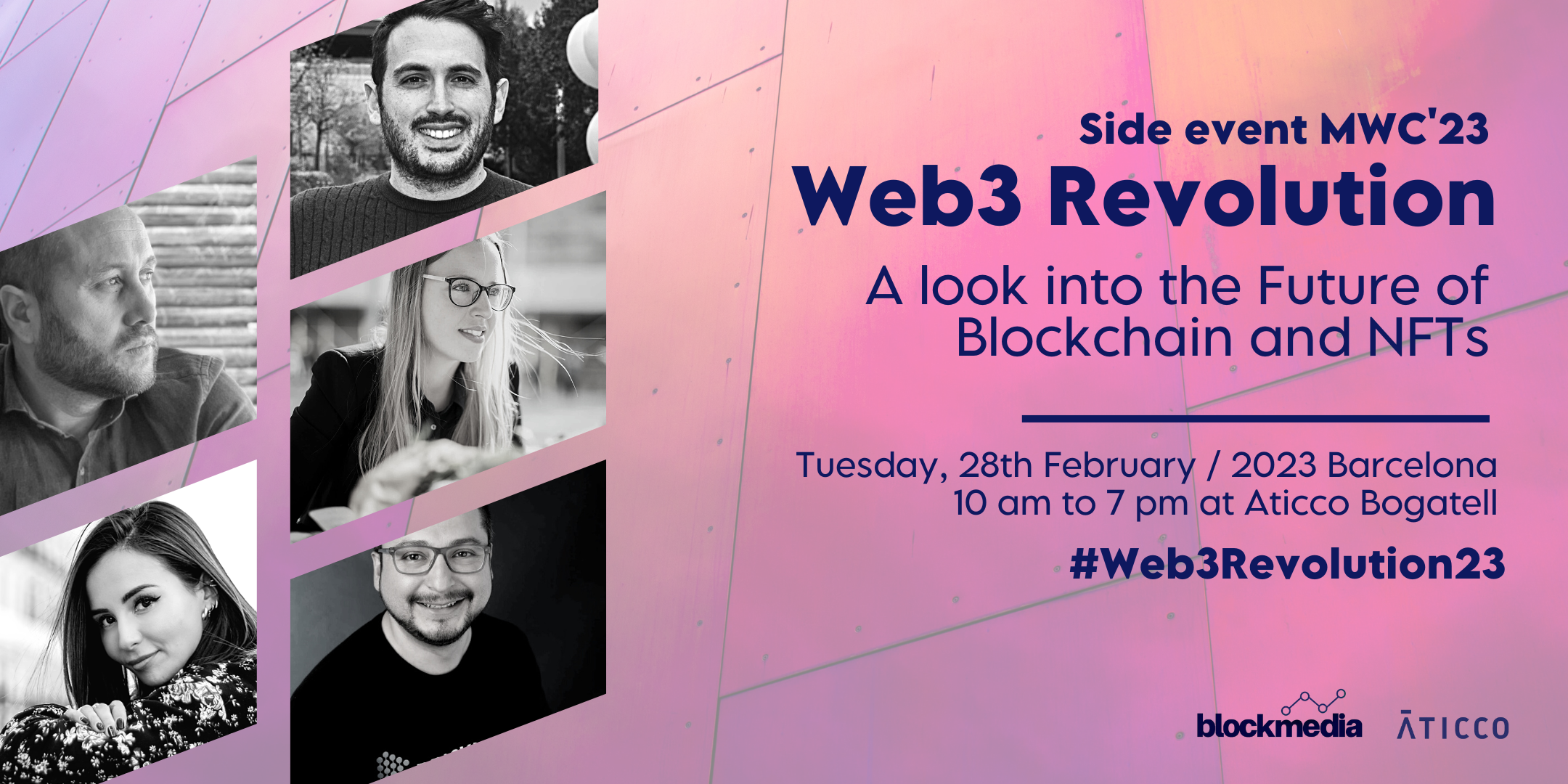 Web3 Revolution – A look into de Future of Blockchain and NFT's, is the new side event organized by Blockmedia.com and Aticco for the week of Mobile World Congress (MWC) & 4YFN.
Some of the most important speakers of Web3 ecosystem will join us to discuss in 4 different round-tables:
10h to 10h30 – Keynote guest speaker (TBC)
10h30 to 11h – Networking time & Coffee Break
11.00h to 12h – Roundtable Crypto: What are the opportunity in 2023?
12h30 to 13h30 – Roundtable Blockchain: Digital Financial Assets and Blockchain Regulation
13h30 to 15h – Networking time & Lunch
15h to 15h30 – Keynote 2 guest speaker (TBC)
15h30 to 16h30 – Roundtable NFTs in 2023. What's Next?
16h30 to 17h30 – Rountable Metaverse: Gen Z, Diversity & The Metaverse
18h – 18h30 – Keynote 3 guest speaker (TBC)
18h30 – 20h – Networking & Drinks (Rooftop)
More than 10 speakers will participate to talk about the future of these topics. Moreover, 2 TOP guest speakers will analyze the sector.
Web3 Revolution will be an opportunity to put in contact with other startups / companies in the ecosystem. CEO's and KOL's will visit the first Web3 side-event.
We will close the event with a party!